An Interview with Earl Todd, alumnus & Astro Camp volunteer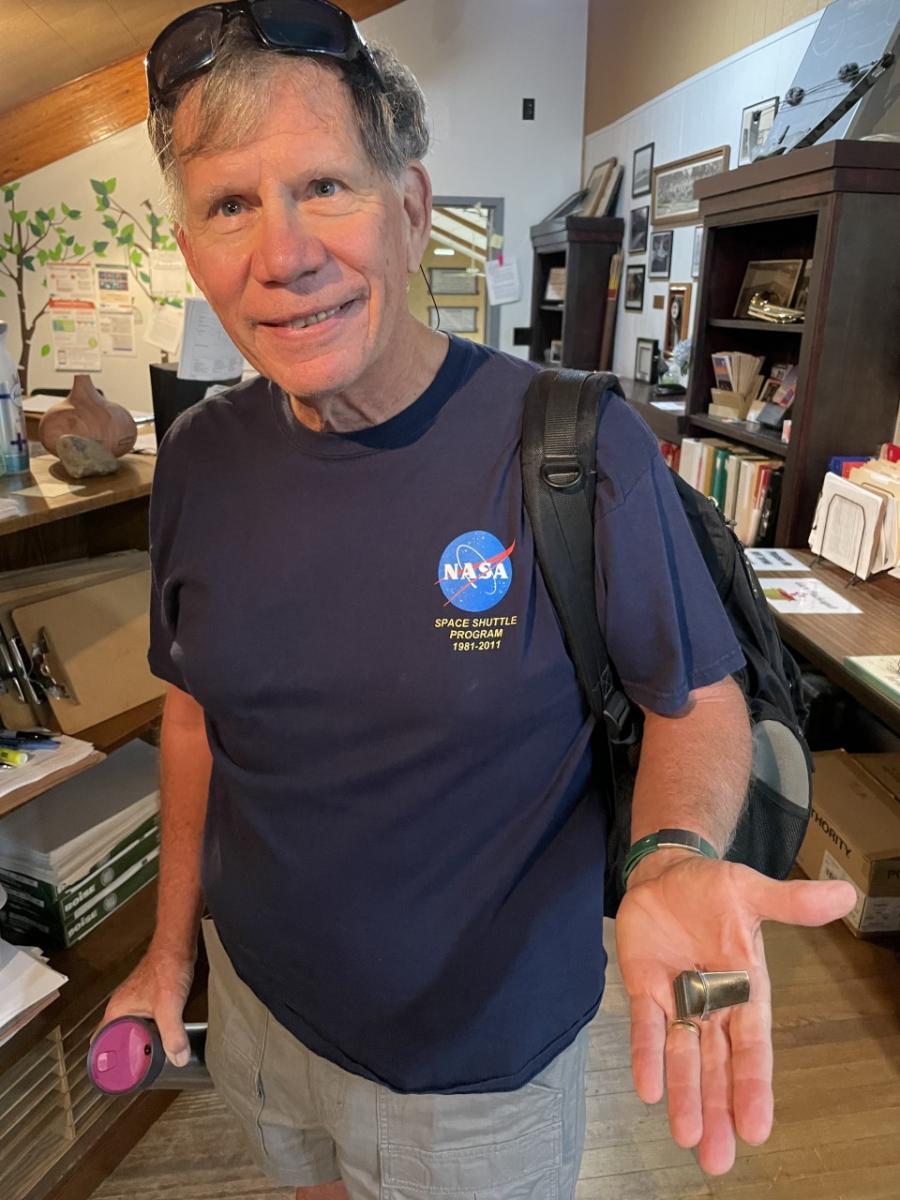 Earl Todd credits YMCA Camp Eberhart with fostering his love for space.
"In 1969, when Neil Armstrong landed on the moon, we were in the old mess hall watching it on a black and white TV," he said.
As a volunteer at Astro Camp this summer, Earl, of Huntsville, Alabama, brought his decades of aerospace engineering experience to the edge of Corey Lake and a starry-eyed group of campers.
In his pocket, a turbine blade from one of the space shuttle main engines he helped design. On his key ring, a piece of metal that's been in space.
The YMCA's Marketing Team met up with Earl this week at Dave's House to get some insight into his aerospace career and his love for Camp Eberhart.
Tell us a little bit about your background.
I went to Purdue University and got a degree in aerospace engineering. I went to work for Rocketdyne. I was in Los Angeles for a while, then went to Alabama and worked at the Marshall Space Flight Center in the space shuttle main engine project office as a contractor. NASA was our customer. We built the space shuttle main engines.
What brought you back to camp?
I've been involved for a while and come back to camp about once a year. This summer I didn't have anything else going on, so I thought I'd volunteer at Astro Camp.
What has it been like working with the campers this week?
It's been fun. It's interesting all the questions they ask. One girl asked, 'How cold is it on Mars?' I didn't know but told her I'd find out. I went and looked it up and she said it was too cold for her. It's cool to see their eyes light up.
I just talked with one of the day campers who came up and said, 'Someone told me you worked for NASA?' And he thought that was so cool. He said he's a future geek in the making. I can relate.
What got you interested in space and going into that kind of field?
I blame Camp Eberhart for a lot of that. I came here when I was a kid from age 7 to 21. I got on the staff and then involved in the Astronomy Program. Then I got involved in the Rocketry Program. When I went to college, I started out in a different direction, then moved to engineering and aerospace.
What do you hope for the future of Astro Camp and YMCA Camp Eberhart?
One of the great things about camp is kids get to get away and figure out who they are. They get to look up to younger adults, the teenagers who are their counselors. I think that's special.
Then the programs that are here. They get to try different things out and different skill sets. One of the interesting things for me is the Astronomy and Rocketry Programs. This is the closest thing to STEM that goes on up here. It's a place for the aspiring little nerds to be able to have a place to go. They may not be the cool kid at school, but here they have an area they can excel at and that is special.
Thursday, August 11, 2022 - 9:46am